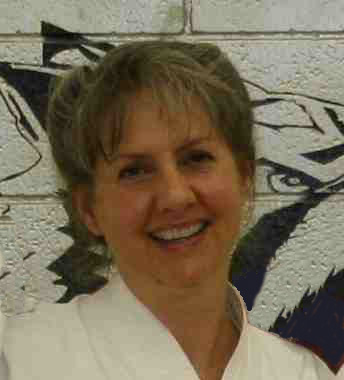 Ms. Susan Montgomery-Hodge
I started training in Tae Kwon Do (TKD) three months after I fell on the ice, badly spraining my ankle and ending up on crutches for several weeks. For years, my husband and I had been discussing training in some type of martial arts together. We found out about Master Kluzek's classes and in February 2001 embarked upon this wonderful adventure. In my 20s, I ran and did aerobics on concrete, which ended up damaging my knees. I could no longer run or jump without considerable pain. I also have fibromyalgia, a condition characterized by extreme fatigue, frequent illnesses, and pain in the muscles and joints. Training in TKD was one of the lifestyle changes that I made to combat both conditions.
Master Kluzek's emphasis on joint rotation, several types of stretching, and flexibility training is a key to my success in TKD. I sprained my ankle in November and started TKD the following February. In May of that same year, I stepped out of a friend's high truck and laid over that same ankle that I had earlier sprained. This time, however, although it hurt, it did not re-sprain, and I was able to walk on it and go to class. I credit the three months of three-times-a-week stretching and flexibility training that I had done in Master Kluzek's classes with making the difference. Other people who have had similar bad ankle sprains have related that it took them over a year to regain any stability in their injured ankle. Before starting TKD, I was very concerned that I would not be able to do many of the moves required. For example, in the horse stance, I could barely bend my knees with a shoulder-wide stance. (photo) Here is what I can do now. (photo)
Master Kluzek works very hard to help those with physical limitations make adjustments or modifications on moves that are too painful or difficult to perform. There were many days where the fibromyalgia and knee pain made even walking painful. I never regretted those days of gritting my teeth and forcing myself to go to class. On those days, I let Master Kluzek know that I was not doing the best and took it easier in class. The stretching and moving always benefited me, and I never failed to feel better after class. I have found Master Kluzek to be compassionate while always encouraging each student to strive for the level of excellence for which he or she is personally capable.
My chiropractor is also now a strong endorser of participating in the martial arts, especially for those approaching mid-life. He used to have great difficulty making adjustments on me because of my sore and tight muscles and general lack of flexibility. He continues to marvel at the ease with which my body adjusts since I have been training in TKD.
A second reason that I chose TKD was its ongoing self-defense emphasis. I was in law enforcement for eight years. I witnessed situations where if the victim had had some good self-defense training, the outcome might have been different. Master Kluzek, having a strong interest in self-defense, has worked with a rape crisis center. This interest led my husband and me to join Master Kluzek in hosting an all-day self-defense course for women.
TKD is also a great family activity. Erik has several parent/child combinations in his classes. Bill and I are at present the only couple training together but I hope to see this change. TKD is a terrific physical activity for couples to do with one another and keep in shape.
As I rapidly approach the half-century mark, I find myself more flexible and possessing much greater balance and strength than I had in my 30s. Here is a move in one of the black belt forms (photo) that because of the twisting, flexibility, balance, and strength required, would have been utterly impossible for me to do before TKD. I can now do this with ease. As long as I am physically able, I will continue to train in the martial arts. Two years ago I met an 84-year old inspiration of a woman still training in TKD. One is never too old to gain greater flexibility, balance, and strength. I would encourage anyone, no matter what his or her present condition, to try TKD seriously for at least a year.
Ms. Susan Montgomery-Hodge (1st Degree Black Belt), Jan 2005