Hear from Students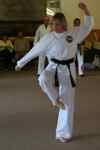 Story about Savannah (low brown belt)

One of our young teen girls had an arrogant uncle who could not believe any woman (much less a girl) could defend herself from a man. She was a purple belt at the time and pretty advanced. The uncle was insistent that she demonstrate, and he promptly used his size and strength against her. Automatically, from her training, she did a quick knee into the groin and dropped the guy. After that he was more humble and had a lot more respect for her.

Story about Kevin (2nd Degree Black Belt)

When my son was much younger and in middle school, he had a bigger kid come and grab him by the collar and threaten to throw him into a trash can. He used a pressure point, he had learned in Tae Kwon Do, near the thumb to get him to release (whimpering ow, ow, ow, the whole time). He was then able to get away, and that kid never bothered him again.

Ms. Susan Montgomery-Hodge (now a 1st Degree Black Belt)

"Master Kluzek works very hard to help those with physical limitations make adjustments or modifications on moves that are too painful or difficult to perform. There were many days where the fibromyalgia and knee pain made even walking painful. I never regretted those days of gritting my teeth and forcing myself to go to class. On those days, I let Master Kluzek know that I was not doing the best and took it easier in class. The stretching and moving always benefited me, and I never failed to feel better after class. I have found Master Kluzek to be compassionate while always encouraging each student to strive for the level of excellence for which he or she is personally capable." Hear Susan's complete message

Sandy Priest (Green belt)

My boss at my work asked me "I've noticed you've had a huge increase in confidence -- what's up?". And I had to tell him "I've got a huge boost in confidence from my Tae Kwon Do training."

Jonathan Spangler, (Yellow Belt) who has now moved to Ecuador

I must give a big shout out and thanks to Master Kluzek and the other instructors for their devotion to the Colorado Blue Wave martial arts school. Not only do we learn from them and each other in this cooperative format, we do so in a world where respect and honor are increasingly hard to come by. And above all else, the organization is a locally-run non-profit organization, living and growing and flourishing in the middle of the world's capitalist core. What better way could the true values of the art and way be spread than through this format? I find nothing more honorable than the devotion of the teachers and students to such an institution. I hope it inspires us all.

Dorita Rostkier-Edelstein (visiting from Israel!) (Yellow belt)

When I started to practice martial arts I believed that I will never be able to learn about life, to get some insight, from a kick, because of my weak knee. I thought that I will never be able to kick without thinking how I do it, because I will always have to be aware of not damaging my knee. However, as I go on practicing I think less and I do my movements in a more automatic mode. But the kick taught more than thinking or not. The kick taught me that I have to control power. Too much power damages. When I feel too passionate to kick I put too much power and my knee dislocates. When I control it, I succeed smoothly. When I was a first time beginner I used to kick point, without thinking, because I was passionate about point, and my knee hurt. When I accepted that flex is the correct position I succeeded. This teaches me about life. When I am too passionate about something, without thinking, sometimes I put too much energy on it, I try to achieve things with all my power, and I harm myself, and may be the surrounding. When I control myself, but still try, I have a chance to succeed in a relaxed way.This is how a kick taught me so far about life. Dorita's essay on "The Way of Martial Arts (or in Korean Do)"