GrandMaster Kim Seminar -- Oct/20th-23rd, 2005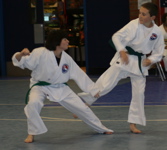 Training with Grandmaster Kim was an absolute blast!
I had a great time! It was fun to work on the cane forms again. Everyone did well on their testing. The demonstration Friday night went well. It was fun to visit with Master Kim, and it was great to have everyone over Saturday night for the potluck. Master Kim commented that all of you looked good and did a good job who came to the seminar.
Mr Seth Moore and Mr Kevin Kluzek both successfully tested to 1st Degree junior black belt level. They did a very good job in their test and I was proud of both of them. Juli Rew successfully tested to low purple belt. Tiffani successfully tested to high green belt, and Brian Kauffman successfully tested to low green belt. Everyone did a good job and looked good on their testing. I was very proud of each of you. From the Denver schools, Andrew and Dylan also did a good job on their tests as well.
I was also asked to test and was able to successfully test to 5th Degree Black Belt. I am very grateful for everyone's encouragement and support through this process. When I started my martial arts training -- I did not seeing attaining this level. Even when I was a brown belt I did not expect to ever attain Master rank or status. When I started my training I was awkward, uncoordinated, and hesitant. By having good patient instructors through the years: Master Ron Squibb, Kevin O'Roarke, Master Ron LeBlanc, and of course Master Kim -- I have been able to steadily improve and attain a level that I did not believe possible for myself. My main attribute has been the patience and diligence to just keep coming to class. As a result I have accomplished things that I would never have dreamed of in the beginning.
My point in telling my story is just this -- if it can happen to me -- it can happen to you. If you are discouraged, find training hard, difficult and have trouble seeing yourself at a significantly higher level -- just keep coming to class. There will be that day when you wake up and realize you have accomplished what you thought impossible -- and you will only be grateful that you spent the time and effort to get you to that point....
As Master Kim would say. Keep going, try hard. Put all your power, all your focus, all your energy, all your speed, and all your anger into your technique -- and you will do well. I find it a privilege and an honor to be associated with each of you. And I am very fortunate to be able to call you my students in the martial arts....
About Master Kim: Master D.H. Kim has been training in and teaching Tae Kwon Do for an impressive 51 years. He is one of a rare few masters in the United States of the 9th degree Black Belt level (Grandmaster). He is also the head of our organization, the Tae Kwon Do Chung Do Kwan Schools. Master Kim has an inspiring and dynamic personality. Workouts with Master Kim are challenging and always sure to improve your skill. Master Kim gives personal instruction and help to students of all levels. He is a master at encouraging students to excel and find strength within themselves to do more than they could imagine on their own. Master Kim does more than instruct and correct, he builds people and he provides a source of true encouragement, not just in the martial arts, but to the whole of their lives.
I have been honored to know and train with Master Kim for over twenty years. It is always a privilege for me to train with him and I always look forward to workouts, and learning and training with Master Kim.
Event Documents
Extra seminar T-shirts -- only $15.00