Black Belt Leadership Academy -- Apr/29th, 2006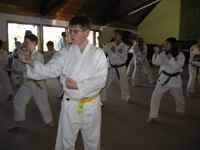 An important aspect of being a black belt is having leadership qualities. Some students have natural leadership qualities or they have learned leadership skills in other forums. However, many students need help in developing leadership qualities. The Black Belt Leadership Academy is training and mentoring in leadership skills by other black belt students. Black belt leadership academy is to be an annual training seminar in martial arts leadership. Students need to be at least of the rank of 1st Keup (high brown belt) to be part of Leadership Academy. Another aspect of Black Belt leadership academy is providing leadership and direction to the classes that the student participates in. Planning and organizing meetings are held for Black Belt Leadership Academy to decide on the curriculum for future classes.
We held Black Belt Leadership Academy and had a wonderful time discussing Martial arts training.
A Learning environment encompassing the following different methods of learning:
Reading:
Lecture based:
Leadership experiences of instructors:
Group Discussion:
Small group practice:
Experiential:
Feedback:
One on one:
Topics of learning include:
Leadership skills
Stretching
Muscle physiology and training methods
Training curriculum
Teaching completely new beginners
Teaching beginners
Teaching intermediate
Teaching advanced
Teaching kids
Teaching adults
Injury prevention
Outline:
| | |
| --- | --- |
| Lecture/group discussion on: goals, teaching, attributes | 9-10am |
| Lecture/discussion on muscle physiology, training methods, and stretching. | 10am-11am |
| Break | 11-11:20am |
| Lecture/discussion on curriculum, | 11:20-noon |
| Lunch break | noon-1pm |
| Lecture/discussion on age-appropriate teaching, | 1-1:45pm |
| Practice/role-playing on different age teaching, | 1:45-3pm |
| Break | 3-3:15pm |
| Group discussion on teaching in the martial arts, | 3:15-4:00pm |
Reading material:
"Teaching Martial Arts; The Way of the Master", Sang H. Kim, PhD, 1997
Requirements for participation:
1st Keup or higher in Tae Kwon do Chung Do Kwan Schools
Black Belt rank and attending COBWAMA school, or affiliate TCS school