Pictures from the UCAR regular class on Monday June 8th 2009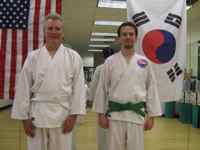 These are some pictures from one of our Monday classes. These are some posed pictures that show off a couple of our students in front of the flags.
This also shows you the location in the fitness room at Foothills Lab 1 on Mitchell Drive in Longmont. Notice the mirrors on the end of the room. It's a fairly small room, but works well for our small cozy group of people.
Note: These are all thumbnails of the pictures. If you click on a picture you can pull up a full size image of the picture (other than the random picture at the top).