Testing to 2nd Degree Black Belt November 2008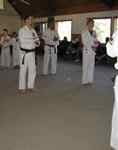 These are pictures of the testing for Mr. Mark Bradford and Mr. Kevin to 2nd Degree Black Belt on November 15th, 2008. These pictures are courtesy of Sandy Priest.
Note: These are all thumbnails of the pictures. If you click on a picture you can pull up a full size image of the picture (other than the random picture at the top).
Forms
Performed all forms for their level (PalSek, Chulgi Cho-Dan, Koryo) as well as five surprise forms from any of the forms of previous levels.
Sparring
They performed all of the types of sparring drills. One-step, three-step sparring, instant-sparring, 2-step sparring, free sparring and three-on-one sparring.
Board Breaking
The other part of testing was board breaking, breaking two sets of 4-boards each. One set with a hand technique (typically an elbow break) and one set with a kicking technique.
New 2nd Degree Black Belts!
Finally after the physical test is over -- they receive their new 2nd degree black belts! As you can see they are both very excited, and we are excited for their progress as well.